The past month has flown by with some amazing weather. However, the cooler autumn season is upon us and so are some more exciting key marketing dates. So get your diary out and listen closely, because knowing what's going on in the month can open up some easy marketing opportunities for you and your business.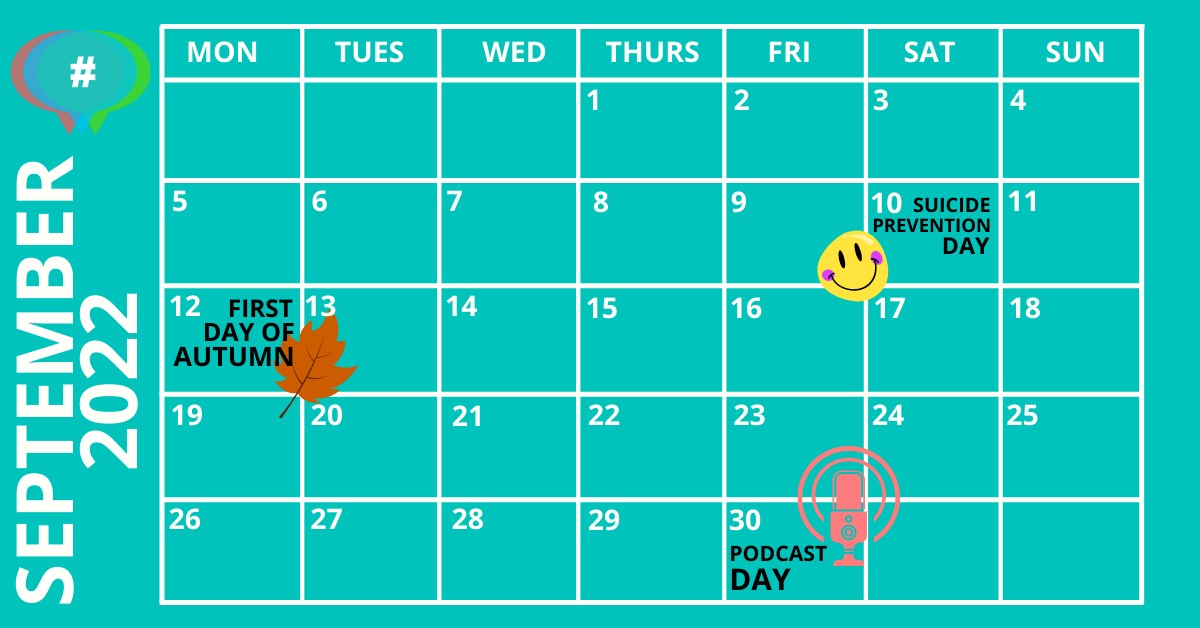 There are a few more marketing dates than last month, and like always we are going to discuss the key events that can be celebrated and touch on how we can create awareness all month round!
National Self-care Awareness Month
Taking the time to unwind and relax is becoming a largely focused topic in recent years.
This could be due to the recognition of society's unbalanced work-life balance, found in the 2020/2021 COVID-19 lockdowns. So, let us all take a day, morning, afternoon, evening, or weekend and relax. Unwind. Do something that you want to do. There are no set boundaries to the activities you can do on this day because everyone is different. Just remember to do you this September!
For businesses, this could be your chance to give back to your employees and give them some time. A day, an afternoon, or even an extra 10 minutes on their break. But don't forget to share it on your socials, show your audience you care about your employees.
National Honey Month
This one is for people with a sweet tooth. Let's all come together and celebrate the work of the Honeybee, by putting honey in your diet this September.
This could be a key opportunity for businesses to share their thoughts on honey, which they prefer, and what brand. Reach out to your customers, do they like honey?
As Bees are now an endangered species, you could also take this opportunity to create a recognition for Bees. What do they do for our ecosystem? Because they don't just make honey, that's for sure.
Better Breakfast Month
Breakfast is considered the most important meal of the day, so why not celebrate it? Reach out to your audience and ask them what they have for breakfast. Treat your employees to breakfast, and post it on your socials, it would look great for the overall culture of your business.
The Key Dates are:
World Suicide Prevention Day
10th September 2022
Suicide is not a topic that is spoken about enough, everyone is affected by it not just the victim but the families, friends, and everyone. To try to prevent suicide we need to talk about it more, create awareness, and highlight that it's ok to not be ok!
Let's highlight that there is help out there. There are other options.
"On average, one person commits suicide every 16.2 minutes. Two-thirds of the people who commit suicide suffer from depression."
So, instead of using this as a marketing opportunity, use it as an opportunity to get in touch with your employees. Educate them, you, and your business on this important topic.
First Day of Autumn
23rd September 2022
Autumn is the season when the weather changes from hot to cold, the leaves start to drop and the days become shorter.
Fun Fact:
This year Autumn lasts until December the 21st.
The first day of Autumn can mean many different things for different businesses. You can incorporate many different activities into your social media marketing strategy to increase engagement.
Polls
Autumn themes quizzes
Themed content
Show your audience that you want to hear from them, making your business just that little bit more personal.
You could let your employees come in comfy, warm clothes for a day and make a TikTok/ reel or content. Use this opportunity to show your customers that your business has a positive and fun environment for employees.
History:
In the past, Autumn has been celebrated for its recognition of the year's harvest. It's when all the farmers' crops would be ready and the past year's work would start to pay off. Many schools celebrate this and encourage their students to reflect on the food that they have, just like they did in the past. It also opens up a time for donations to food banks and charities for families that aren't as fortunate.
Hashtags to use:
#autumn #fall #autumnvibes #autumnal #autumndays
International Podcast Day
30th September 2022
Being a Social Media agency, I thought it would be apt to mention International Podcast Day.
Many people have started taking their time away from the radio to listen to podcasts on journeys instead. In light of this, this could be your perfect opportunity to do your first! Get out there, and speak about your business. Highlight what your company does, how you help your employees progress, and if you're environmentally friendly.
Sharing your voice for your business could open so many doors, and invite more customers.
The first podcast was created in 2004, by Adam Curry and Dave Winer, who are credited for the invention of the podcast.
Hashtags to use:
#podcast #internationalpodcastday #podcasthost
To Conclude
September is definitely a lot busier than August, so make sure you note down these dates and tips. Throughout this blog, it has been mentioned that all of these dates give you plenty of opportunities to get in touch with your audience and show your business culture. If you come up with any other ways to use these dates to increase interaction with your audience, please share them in the comments!
If you found this blog helpful, there are other blogs dedicated to the month of September based on social media trends. Interested? Head to our blog page now.