Facebook now has over 2.23 billion monthly active users. And as small business owners and brand managers, there's a very good chance you'll be able to reach and connect with your target audience through Facebook.
Great! So where should you start? And is there an easy blueprint to follow?
From creating our Facebook Business Page to posting several hundred times over the past few years, we've experimented a lot with various Facebook marketing tips and have enjoyed figuring out the best way to create and manage our Facebook Page here at Buffer. I'd love to share with you how the process has worked so far from start until now!
Since things continue to change regularly with Facebook and its algorithm, consider this A to Z guide as a great jumping-off point for creating a Facebook Business Page and growing your audience. Start here, test what works for your individual business and brand, and make changes as you learn.
How to create a Facebook Business Page in 6 simple steps
Step 1: Fill out your basic business info
Open the following URL to create a business Page on Facebook:
https://www.facebook.com/pages/creation/
(You can also click on the drop-down menu in the upper-right corner of any page on Facebook and select "Create Page".)
Once there, you'll see two options — "Business or Brand" and "Community and Public Figure". Since we are creating a Facebook Page for your business, click "Get Started" under the "Business or Brand" box.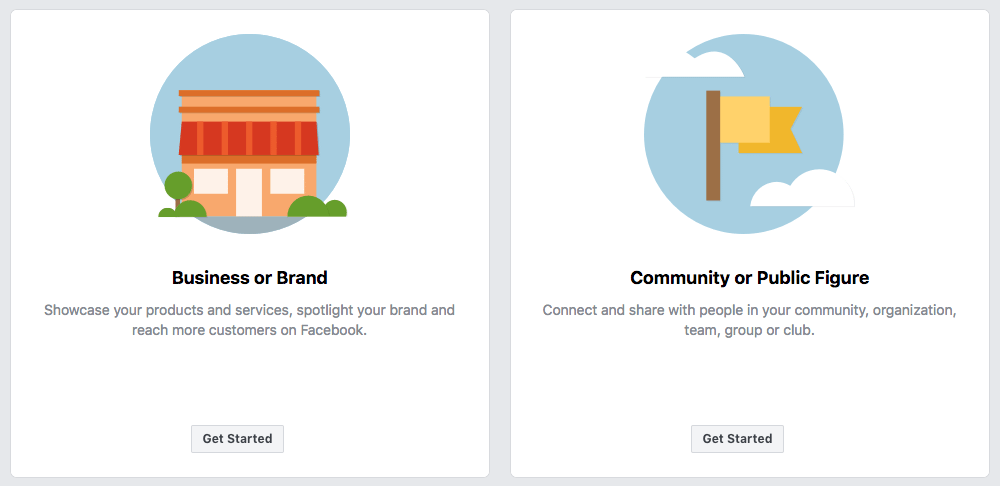 There will be a few fields to fill out (some will appear only after you have chosen a category):
Page Name
Categories
Address
Phone number
Keep in mind that you can change the category (but not the name) later on if needed.
Step 2: Add a profile photo and cover photo
Next, Facebook will prompt you to upload a profile photo and cover photo.

Profile photo – 170 x 170 pixels
This photo will appear as your icon every time you comment on a post or publish in the News Feed. Ideally, you want to upload your company logo here.
The ideal size for profile photo is 170 pixels wide by 170 pixels tall.
Square dimensions are best, and Facebook will crop it into a circular shape in ads and posts.
Cover photo – 820 x 462 pixels
The cover photo appears across the top of your page and is a great opportunity to deliver a visual element that supports your branding, draws attention, or elicits emotion from your visitors.
The ideal size for Facebook cover photo is 820 pixels wide by 462 pixels tall.
According to Facebook, your cover photo is displayed at different sizes on desktops and on smartphones — 820 pixels wide by 312 pixels tall on desktops and 640 pixels wide by 360 pixels tall on smartphones. If you want to use a single image that works pretty well on both desktop and mobile, I found that 820 pixels wide by 462 pixels tall seems to be the best.
You can certainly hire a designer to make you something fabulous, or you can go the DIY route. Canva is a super helpful, free tool for Facebook cover photos as it comes with several pre-made templates that look great right out of the box.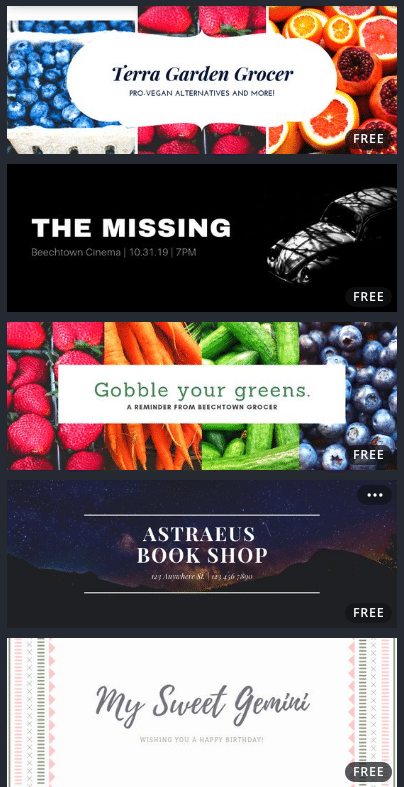 You can then upload your own image to use as the background and edit the text to say whatever you'd like. If you're looking for high-quality image options, we've compiled a list of our favourite sources for free social media images.
Once you have uploaded your Facebook Page's profile photo and cover photo, you'll be brought to your newly-created Facebook Page!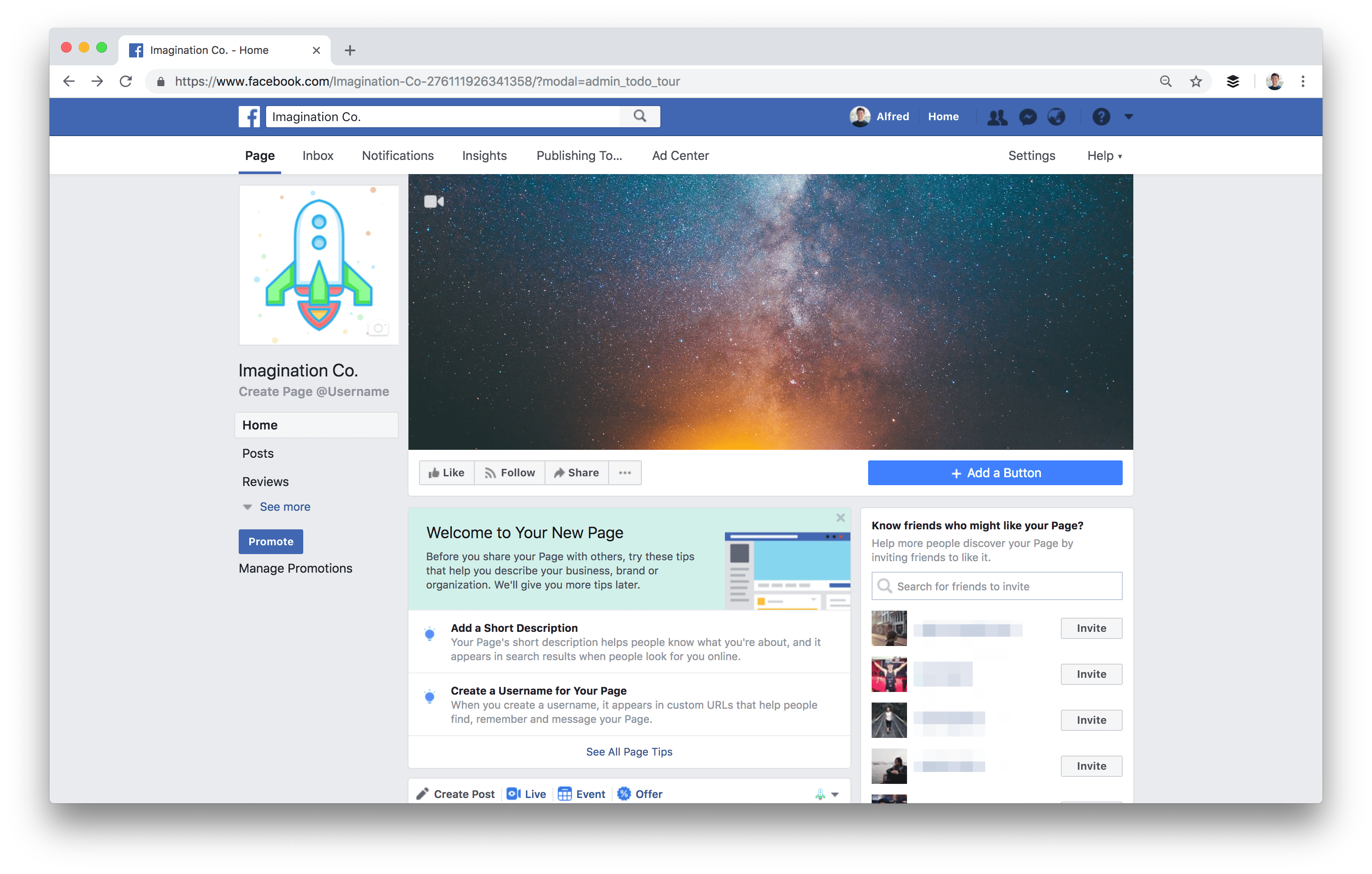 (If you happen to upload an image that isn't quite the exact dimensions of the Facebook cover photo, you can reposition the image to fit the available window. When you're happy with the final look, you can click "Save" and you'll be set!)
Here's a pro tip: You can even upload a cover video or feature a slideshow of images! For more information and fun ideas, check out our Facebook cover photo guide.
Step 3: Fill out your Page information completely
Right in the middle of your new Facebook Page, Facebook will show you a few tips to complete your Page set up. Clicking on "See All Page Tips" will bring up a pop-up with several steps to fill out your Page information.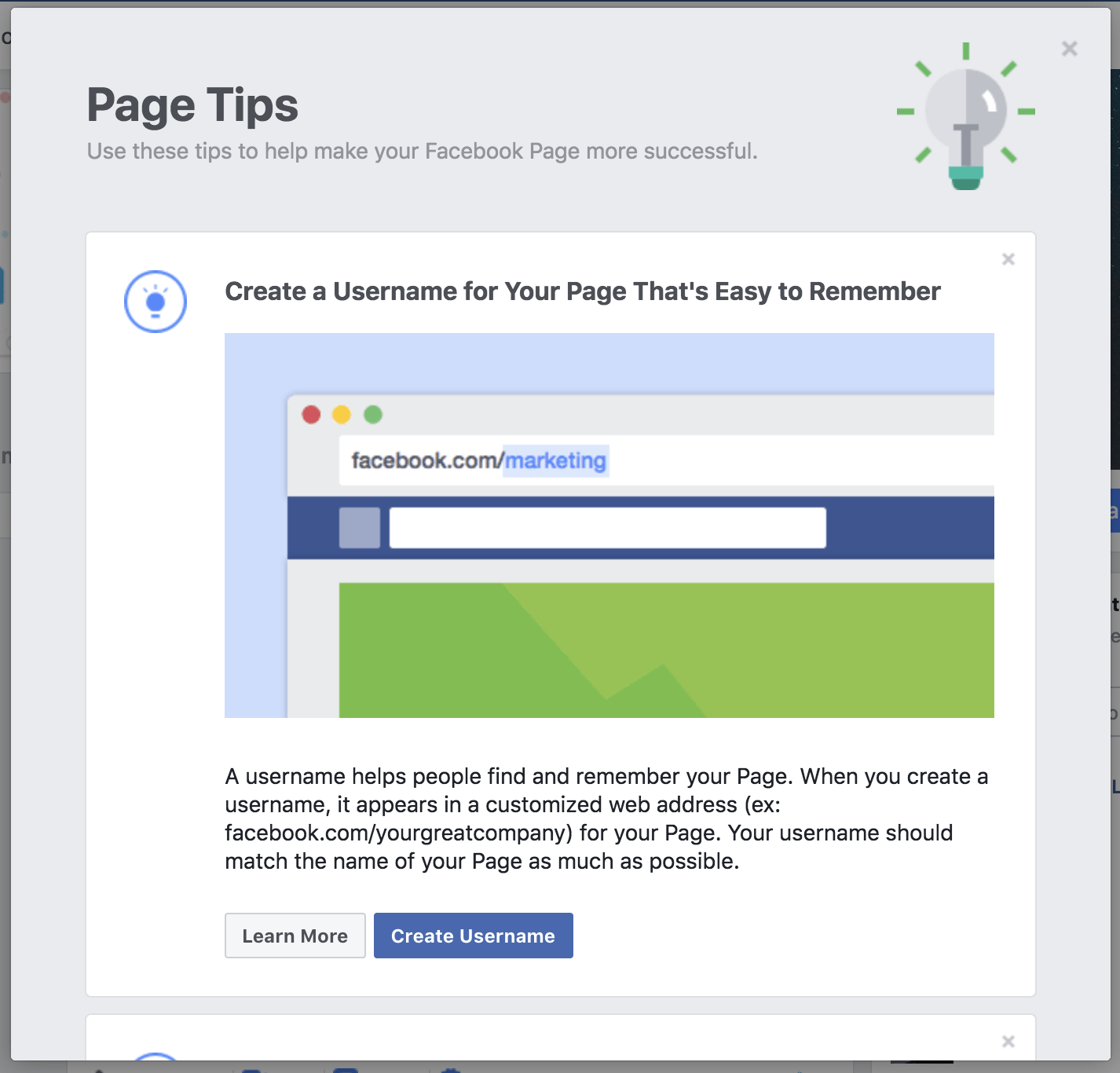 Alternatively, you can also "Settings" and "Page Info" to fill out your Page information. Here are the things to fill out:
Description – Let people know what your Page is about in 155 characters.
Categories – Categories can help people find your Page. Choose up to three categories.
Contact information – If you have a business phone number, website, and email address, add them here.
Location – If you have a physical store, share your address here.
Hours – If you are only open on selected hours, state them here.
More – You can even state a price range (if you want).
All of these details will appear on the About tab of your Facebook Page, where you can add even more information, such as your business's story, awards, menu, etc.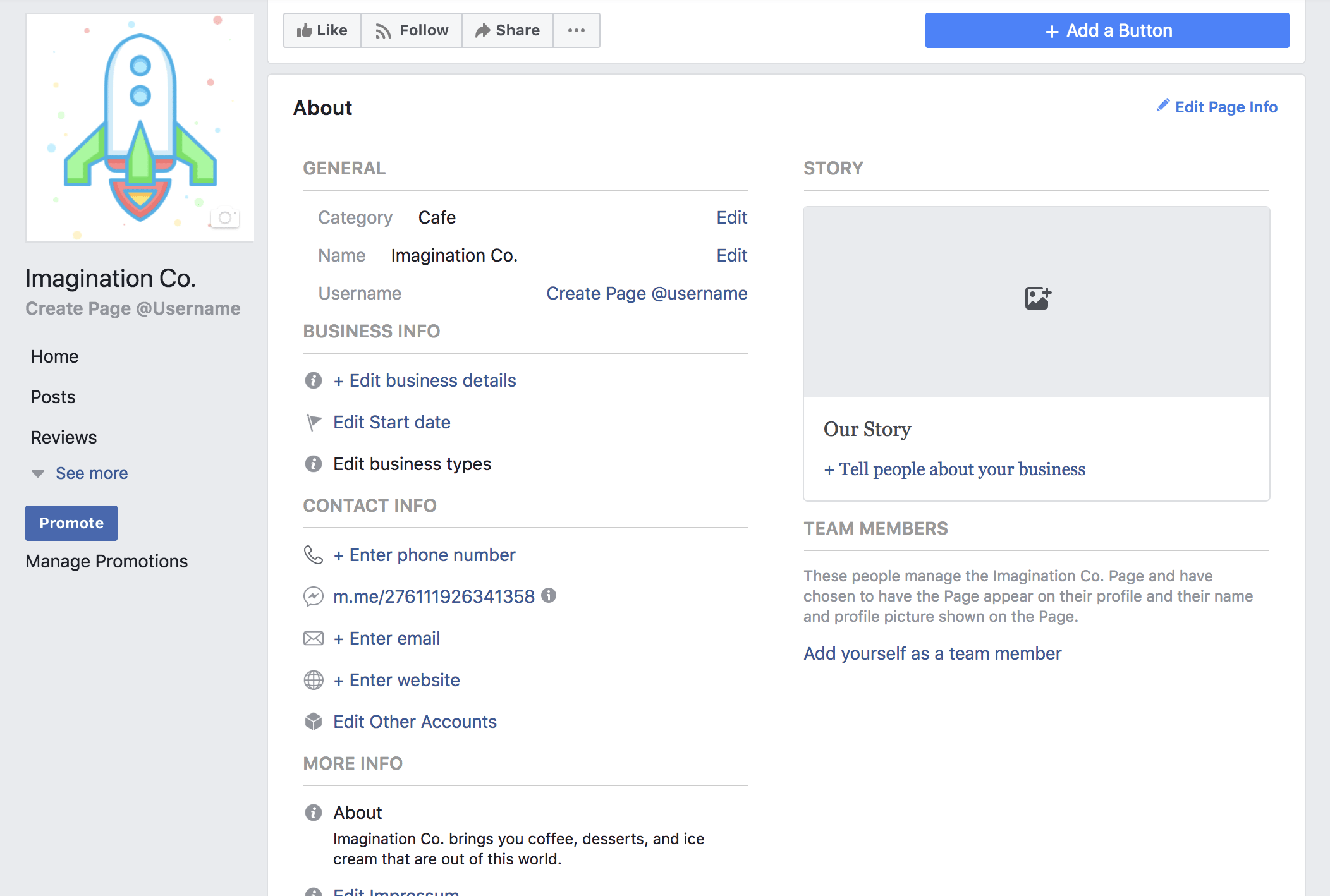 Here are two more pro-tips:
1. Create a username for your Page. It'll make it easier for people to find your Page and give you a custom URL that you can share with others (e.g.fb.me/imaginationcocafe).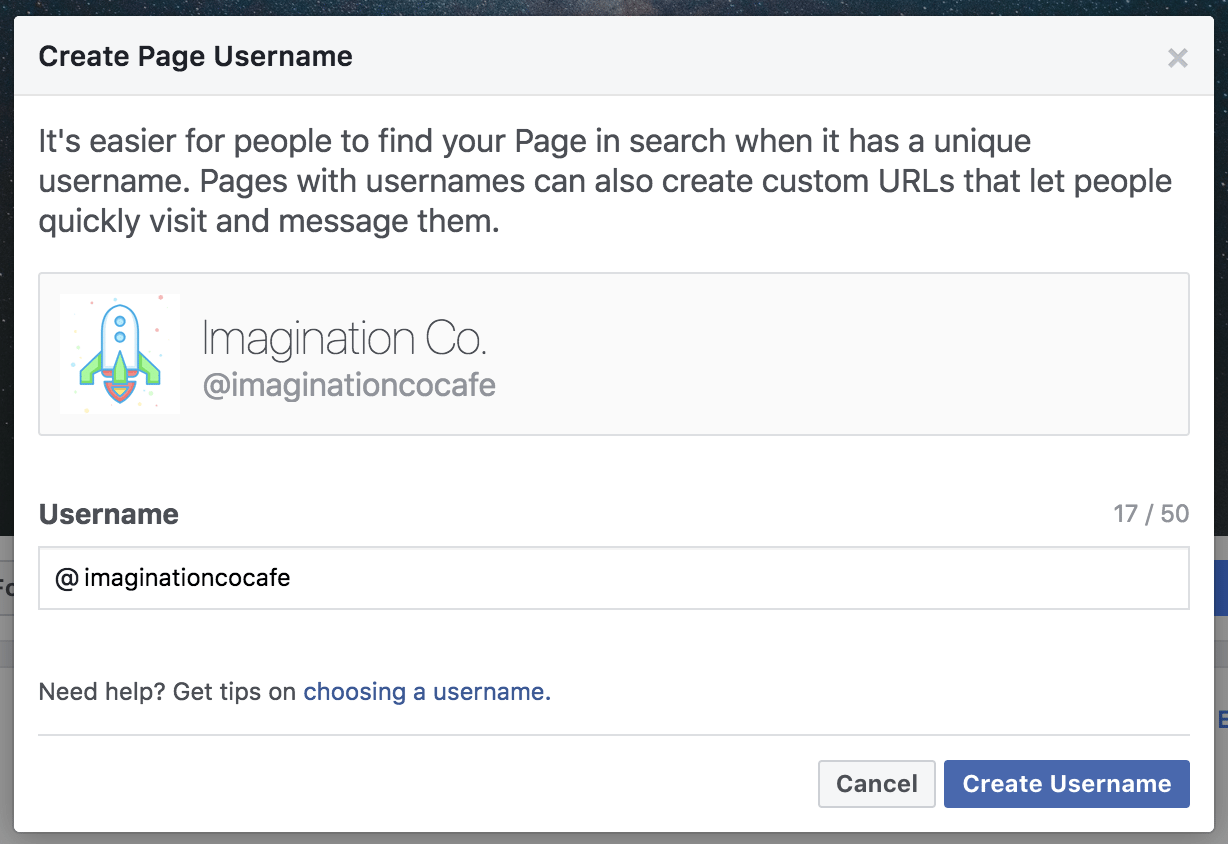 2. Add a button. Every Facebook Page has a prominent call-to-action (CTA) button below its cover photo. It is a great opportunity to get your Page visitors to take an action, such as sending you a message or learning more about your business.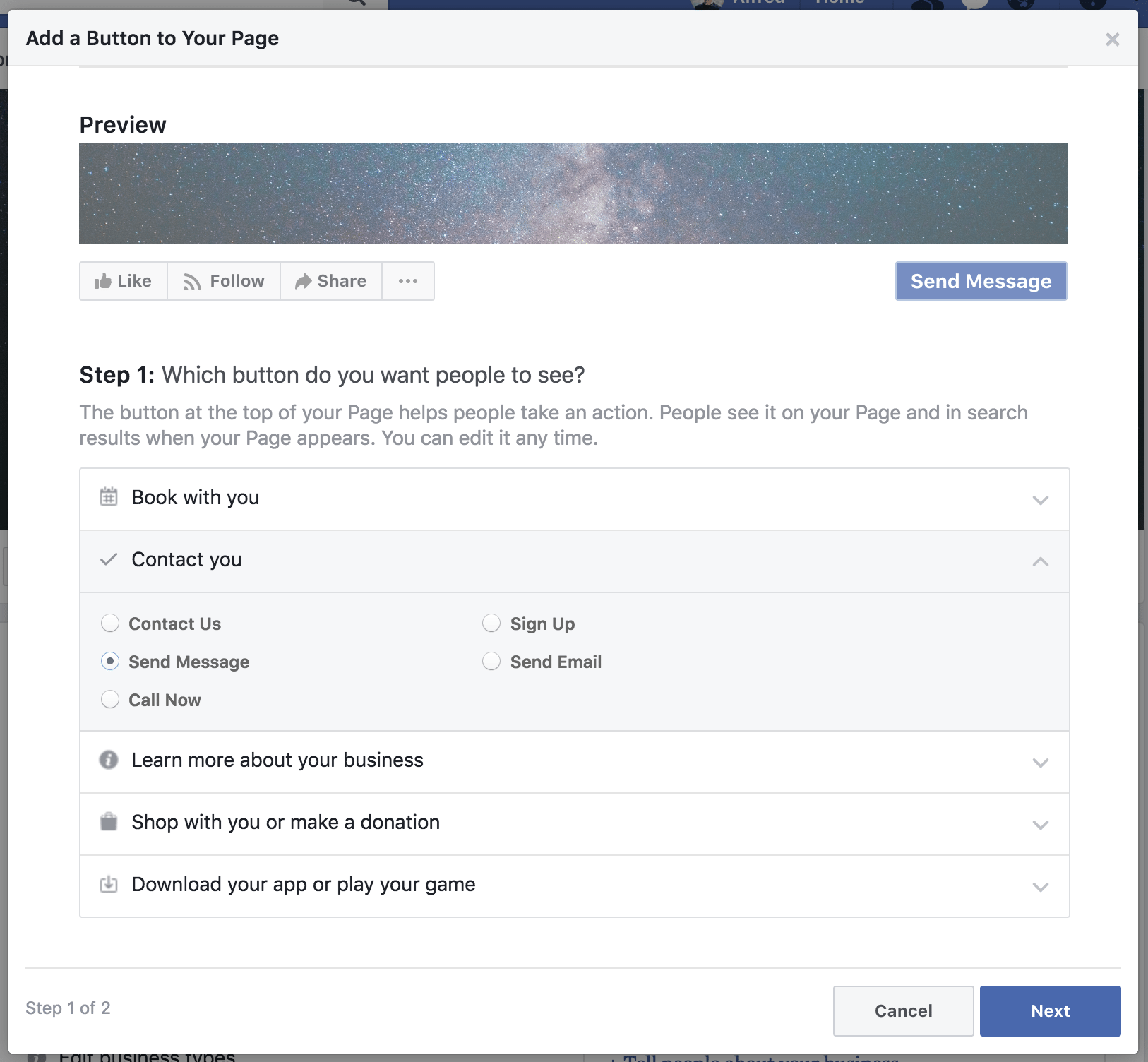 Step 4: Customize your Page
Facebook allows you to customize your Page even further. In your Page settings, there's a "Templates and Tabs" tab. This tab lets you configure how you want your Page to have and to look like.
Tabs are essentially different sections of your Page, such as your posts, your photos, reviews of your business, etc. You can decide which tabs you want on your Page and their order on your Page.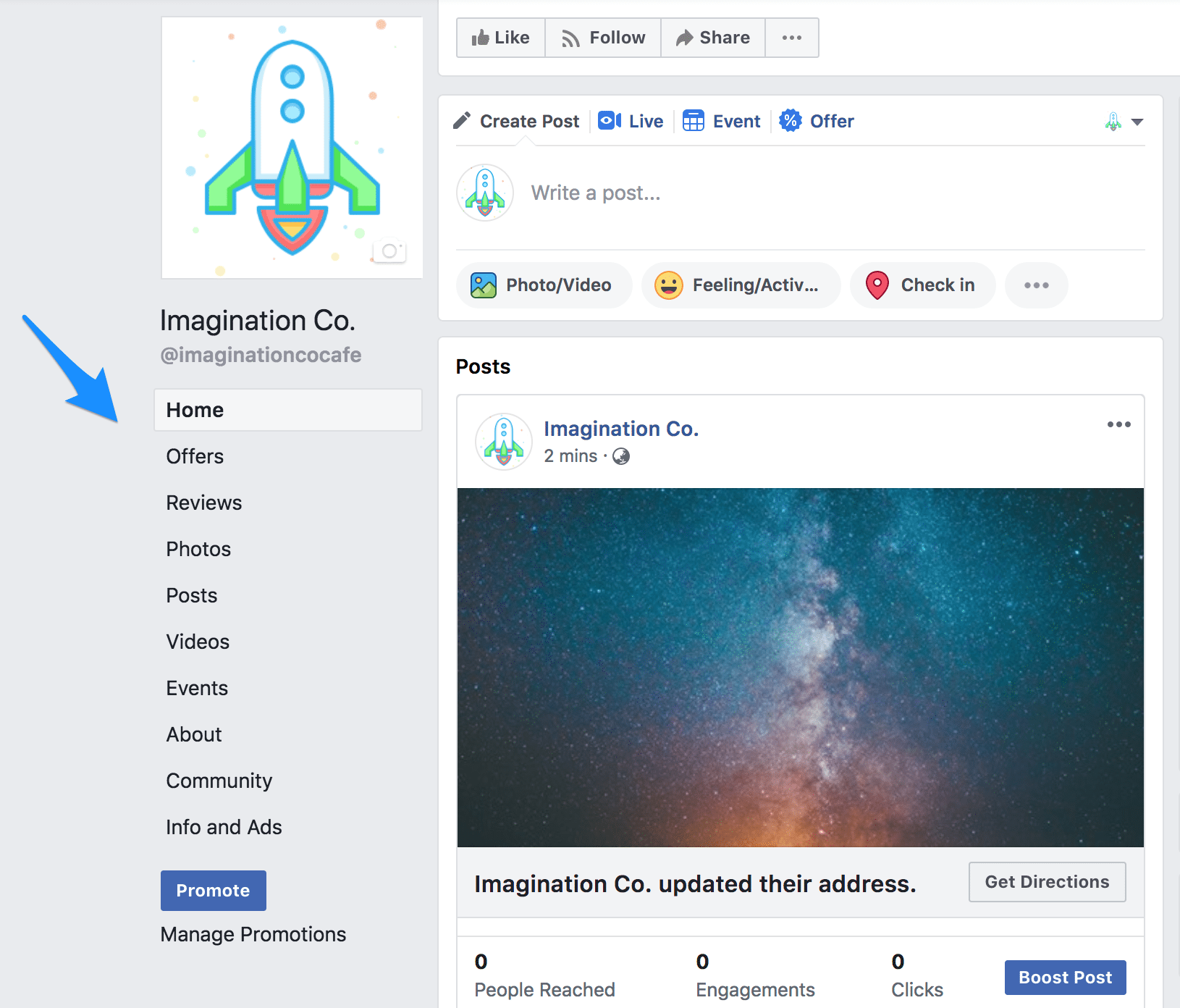 To make things easier for you, Facebook has several templates you can choose from.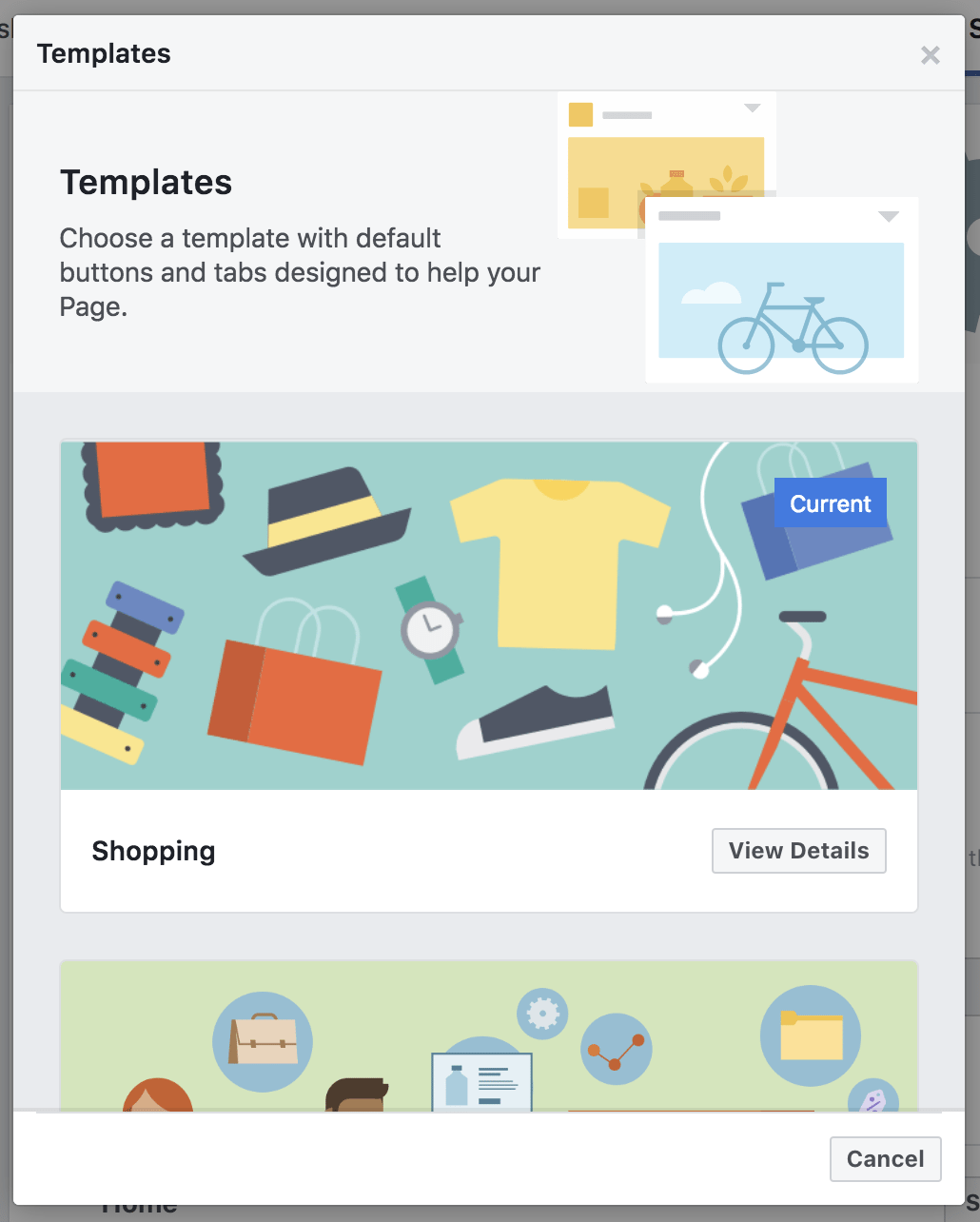 Each template has a default CTA button and tabs (i.e. sections of your Facebook Page), which you can preview by clicking "View Details". Here are the various templates:
Shopping
Business
Venues
Movies
Nonprofit
Politicians
Services
Restaurants & Cafes
Video Page
Standard
You can also customize (turn on or off and rearrange) the tabs of your Page, too. Here are the possible tabs:
Offers – Lists current offers for your business
Services – Gives you a space to highlight the services you offer
Shop – Shows the products you want to feature
Reviews – Shows reviews on your Page and allows people to write reviews
Photos – Shows photos posted on your Page
Posts – Shows your Page posts
Videos – Shows videos posted on your Page
Live Videos – Shows live videos about your page
Events – Lists your upcoming events
About – Lists information about your Page
Notes – Gives you a space to highlight notes on your Page
Community – Lists your friends that have liked your Page
Groups – Lists the groups that you've linked to this Page
Info and Ads – Shows ads that you're running via the Page
Here's a pro tip: If you have a Facebook Group (it's worth having one, here's why), you can link it to your Facebook Page for more visibility. To learn more about Facebook Groups, check out our Facebook Group guide.
Step 5: Add collaborators to your page
If you plan on sharing your Facebook marketing duties with a team, you'll want to grant access for various folks and various roles.
Here are the roles that you can choose from:
Admin – Complete and total access to everything (you are an admin by default)
Editor – Can edit the Page, send messages, and post as the Page, create Facebook ads, see which admin created a post or comment, and view insights.
Moderator – Can respond to and delete comments on the Page, send messages as the Page, see which admin created a post or comment, create ads, and view insights.
Advertiser – Can see which admin created a post or comment, create ads and view insights.
Analyst – Can see which admin created a post or comment and view insights.
To add collaborators, go to your Page settings and the "Page Roles" section. You can type in the name of any Facebook friend or person who has liked your Page. Alternately, you can type in an email address associated with a Facebook account.
Step 6: Publish your first post
Add content to your Page by publishing a post—a status update, a link, a photo, a video, an event, or a milestone. New, fresh content on your Page will make it look all the more enticing once new visitors come over to check it out.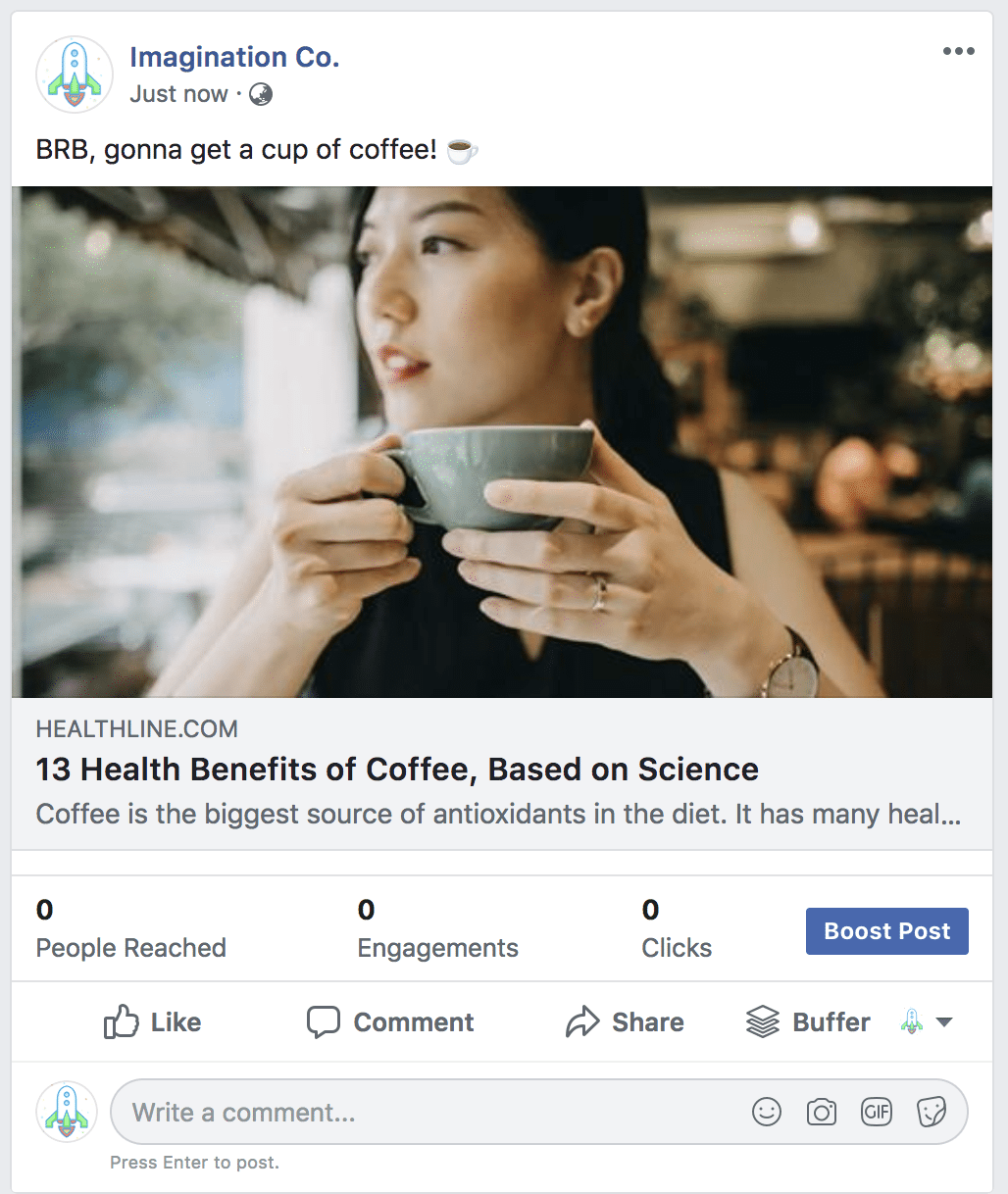 And there you have it!
Your Facebook Business Page is up and ready to deliver awesome content to your fans and grow into something wonderful.
Read on to learn more about growing your Facebook Page and posting best-practices!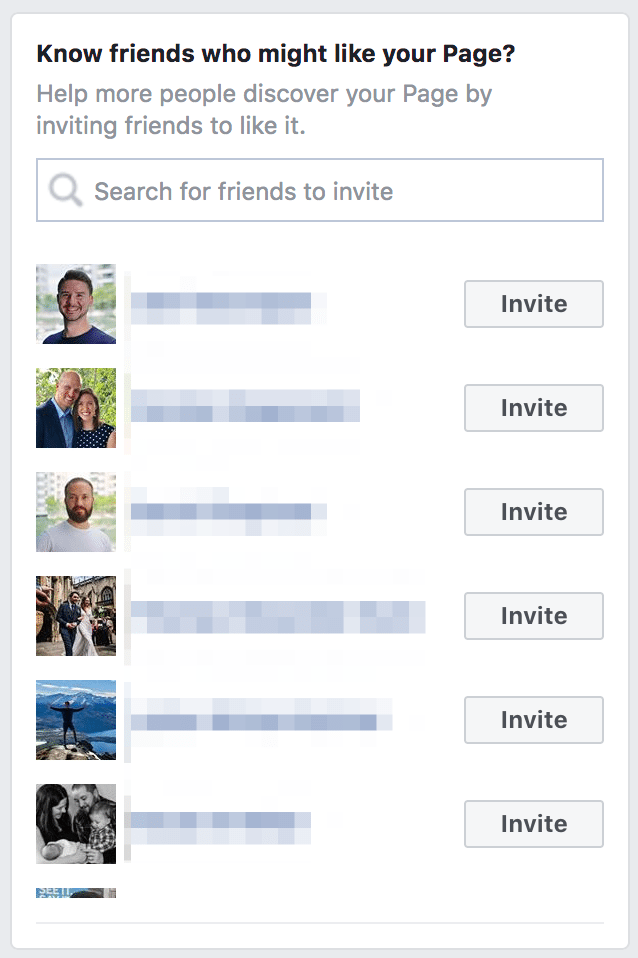 Once invited, your friends will receive a notification to check out your Page.
Invite your coworkers
One of the best sources of social media promotion for your company could very well be your coworkers. Ask everyone who works with you to like the Page and—if willing—to recommend the Page to any friends who might be interested.
Promote your Facebook Page on your website
Facebook offers a full complement of widgets and buttons that you can add to your website to make it easy for website visitors to like your Page.
One of the most ubiquitous plugins is the Facebook Page Plugin. With Page Plugin, you can easily embed and promote your Facebook Page without visitors ever having to leave your website.
Here's an example of how it'll look like: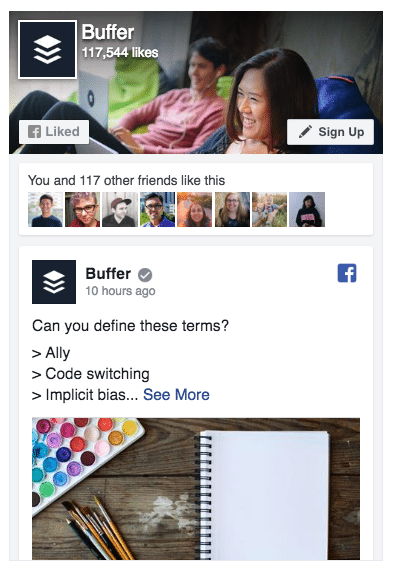 Promote your Facebook Page in your email signature
One of the most visible places you might find to promote your Page is in your inbox. Edit your email signature to include a call-to-action and link to your Facebook page.
Hold a contest
Facebook contests can be huge for gaining likes on your Page. Two of the best apps for creating contests are ShortStack & Gleam which help you create custom campaigns to drive Likes to your page (or email capture or fan engagement or any number of different ideas you might have).
What to post and when to post it
In general, there are four main types of posts you're likely to publish on your Facebook Page:
Photos
Videos/Stories
Text updates
Links
While I would recommend experimenting with different types of posts, videos seem to be the most popular content format at the moment. According to a study by Buzzsumo on 880 million Facebook posts published by brands and publishers, videos get, on average, twice the level of engagement than other post types. If you're posting videos, remember to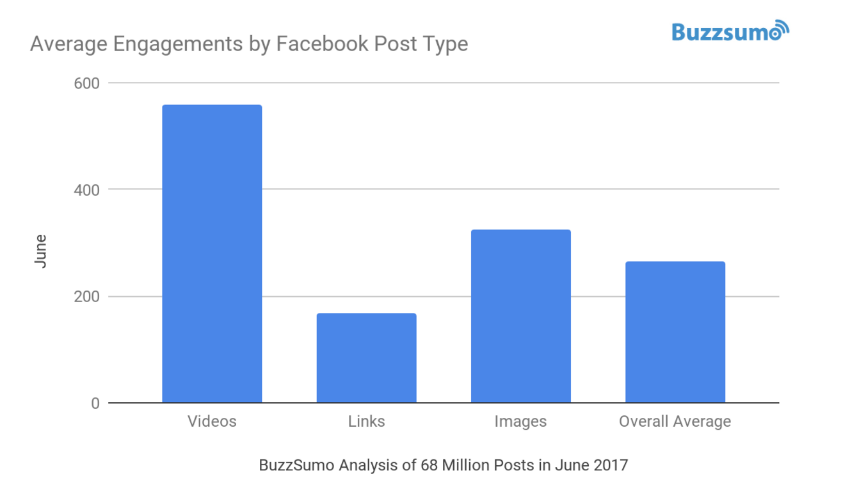 As far as the frequency with which to post, Facebook's algorithm changes have made research into the topic rather difficult. The consensus seems to be to experiment as much as possible. As often as you have fresh, compelling content to share on Facebook, give it a try. Try testing post frequency in week-long intervals so that you can measure the results quickly. We found that posting about once a day works best for us.
With that, we recommend being consistent with your content. When your content is good, your audience will start to expect it on a regular basis. Even if you're only producing enough content to post to your Page once per day, try to stick to that schedule. Social media scheduling tools like Buffer help make this easy by letting you schedule posts ahead of time. You can add to a queue so that your Page always has fresh content being posted automatically on schedule.
The timing of your Facebook posts is another area you might want to experiment with. There isn't a universal set of best times to post on Facebook; your brand has your own unique best times to post on Facebook. Here's an ideal way to find your best times to post.
How to tell what's worked and what hasn't
After sharing posts, you're likely to want to know how they did. Your social media management tool would likely have some built-in analytics that can help you better understand how your posts performed. Here's a peek at what the Buffer for Business analytics look like:

You can also gain a huge number of stats and numbers from Facebook Insights.
Once you've shared several pieces of content to your Facebook page, you'll see an Insights tab at the top of your Facebook menu, between Notifications and Publishing Tool. At the top of the Insights page, you'll see your stats such as Page Likes, Reach, and Engagement for the week, along with a comparison to the same stats from last week.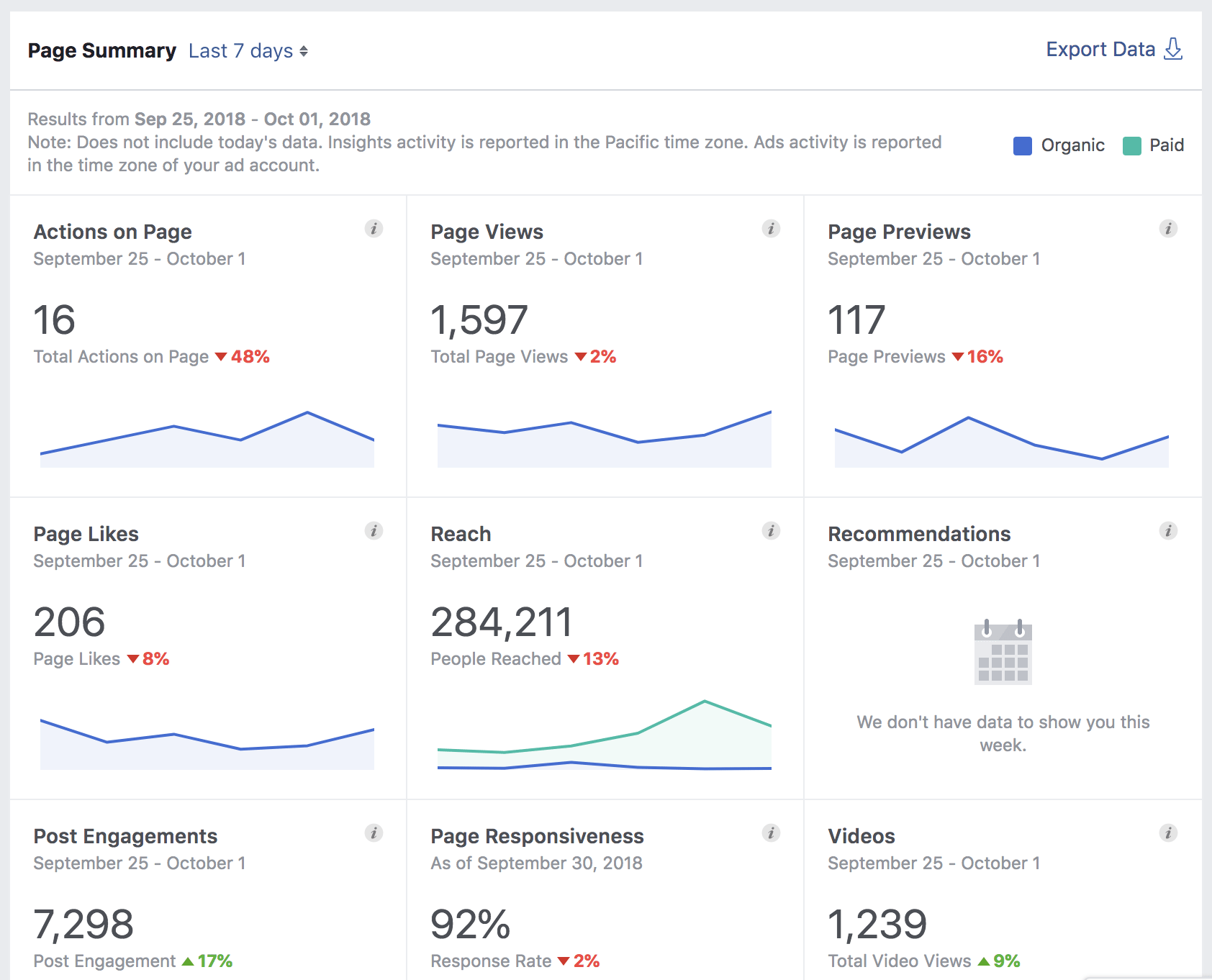 Another neat area to check is the section on when your fans are online.
Click on "Posts" from the Insights menu, and you can see when your fans are typically online during the week and each day of the week. Here's an example from Buffer's Page Insights: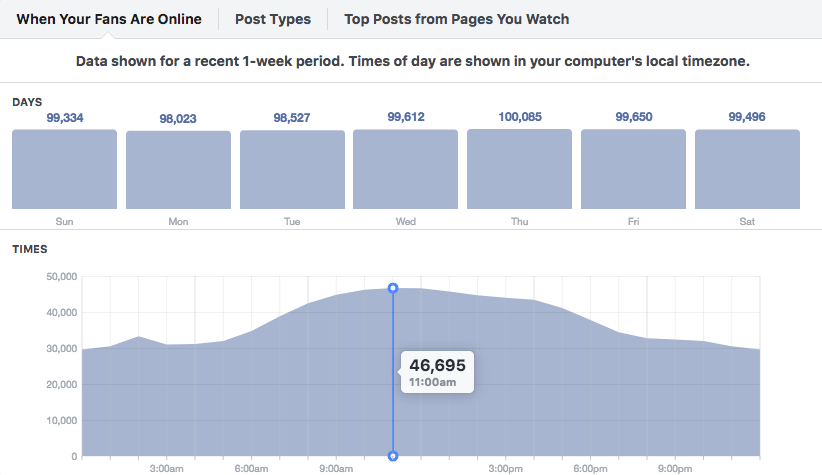 One of the newest features of Insights is the "Pages to Watch" section at the bottom of the "Overview" page. 
You can add other Pages that you want to monitor—a great way to grab some competitor research and take inspiration from the way that other Pages market themselves.
To add a Page, simply click on the "Add Pages" button at the top of the section.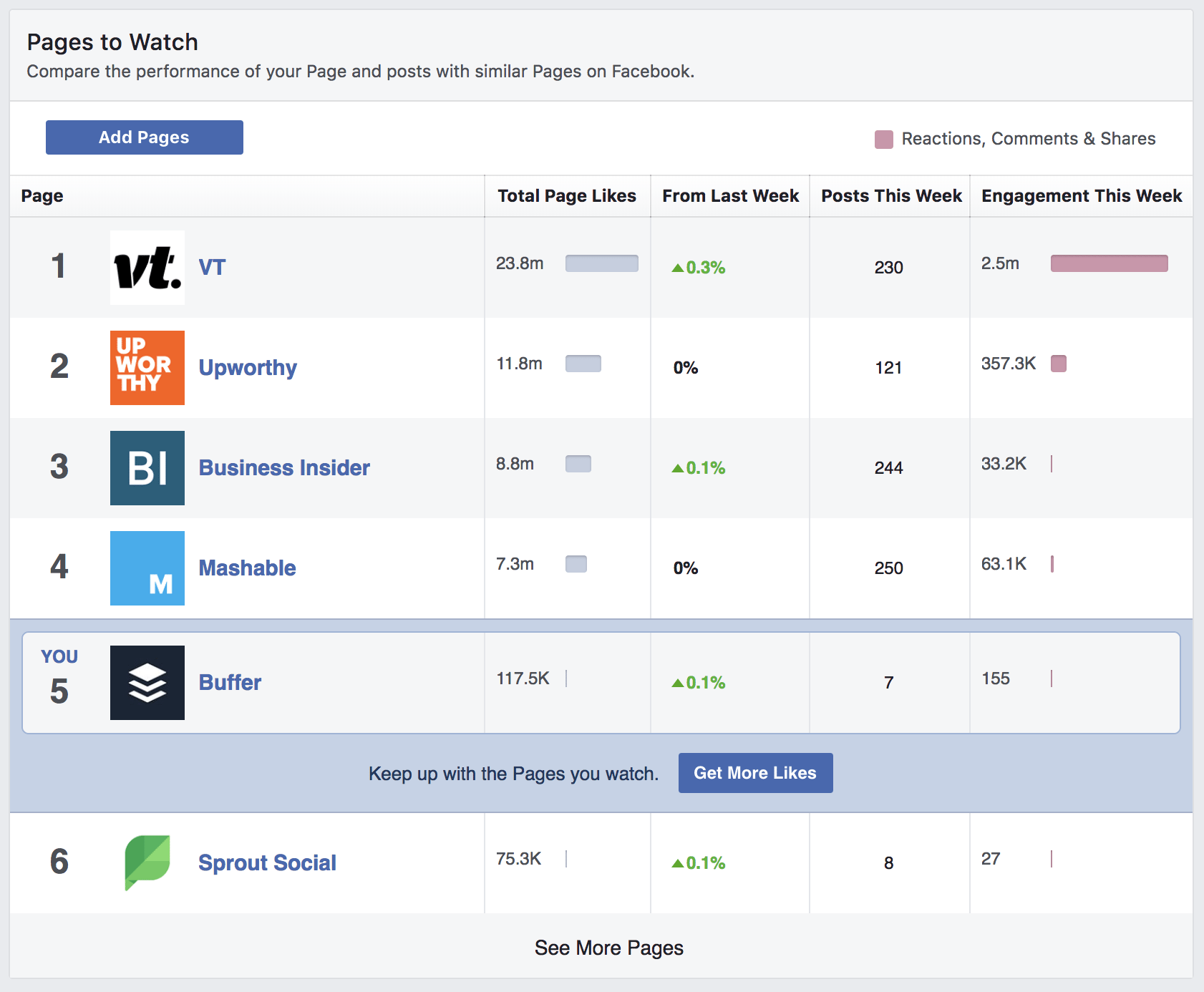 Search for the name of the Page you want to watch, then click to add it to your watch list. Once a Page has been added, you can click on the name of the Page from your Insights dashboard, and you'll see an overview of their best posts from the week.
This blog was originally taken from Buffer, you can find the original post here. Gather Social are proud to be Buffer Partners.