The world of social media is growing. Facebook is found to be one of the older platforms, but it is still relevant. Facebook is one of the largest platforms with the average user spending 19.6 hours on the platform a month (Hootsuite, 2022). This suggests the importance and popularity of Facebook.
Within this blog, you will be supplied with 3 top hacks on how to elevate your business's Facebook to the next level, in the hope to enhance your business's achievements.
Grow your Facebook Profile
Growing your Facebook Business Page will inform your audience about your business fully, saving them time to understand if you're the right fit for them.
Adding a profile picture, connecting your business WhatsApp or email contact details, and other business details (within the "About" section), will help show your target audience who you are and what you do, and if you can help.
Thankfully, Facebook makes these processes very easy for you and has a "Set Your Page Up for Success" process to help you make these changes. This can be found within the "Manage" button at the top of the page, then continue to scroll until you can see the "Set Your Page up for Success" menu.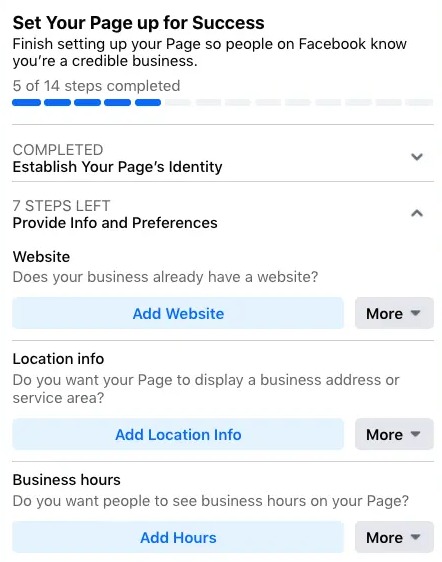 Within this, you can add your additional links and business information that simply extends your business's Facebook page further.
Advertise your Other Platforms
Interconnecting and advertising your other social platforms, will help your business's social media to boost on all levels. As well as doing this, ensure you have hyperlinked icons on your business website allowing your audience to be taken to the social page they wish to visit. Additionally, leading to potential growth in your business's following.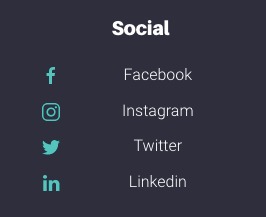 Celebrating your social media pages on all platforms will promote your company further, it allows your existing audience to know you have other social profiles out there that they can interact with. In turn, this could build your customer base and grow your business.
Pin your Most Helpful Content
A new feature that has become popular to use is pinning content at the top of your feed. This will allow your page visitors to clearly see the work you've been doing, the products or services you offer, or what your company does in general.
How to do it:
Click on the three-button menu that is on the top right corner of the post

Click on Pin at the top of the page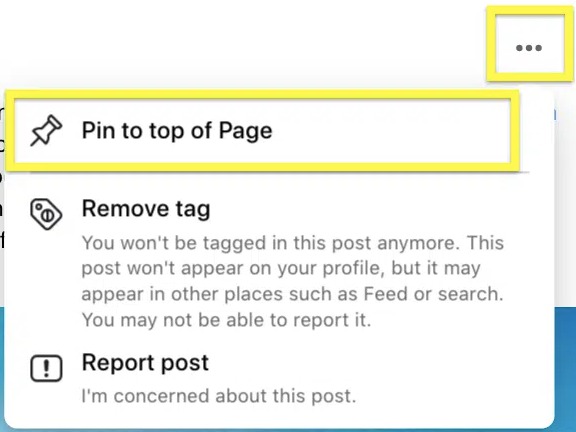 It is important to keep the pinned posts relevant to what your business is doing, otherwise, your target audience might not be up to date with what your business is doing!
To conclude these three hacks are a few of many, there are additional tips and tricks to do which include: scheduling content, displaying your products in collections, and analysing your ad performance. All of which will help push your company to the next level and grow your overall performance.
For more interesting blogs on social media, head over to Gather Social's blog page.