It all started with a mission. Julian Hearn wanted to create a business he was proud of — a business that was about more than profit; that did the right thing for the planet, for its staff, and its customers.
That mission led to the launch of Huel.
Huel offers nutritionally complete food, delivered to your door. Its flagship powder product is made from plant-based sustainable ingredients like oats, flaxseed, and coconut, and offers consumers a convenient and affordable alternative to traditional meals and snacks.
Since its launch in 2015, Huel has sold over 100 million meals and built up a passionate audience of over 400,000 followers across social media channels.
How Buffer helps Huel to connect with customers across platforms
Finding the right software is a challenge for marketers. It's especially difficult in the social media space. Platforms like Instagram and Facebook are constantly evolving, and as a result, the needs of marketers are always changing.
"It's difficult to find something that does it all," explains Tim Urch, Social Media Manager at Huel.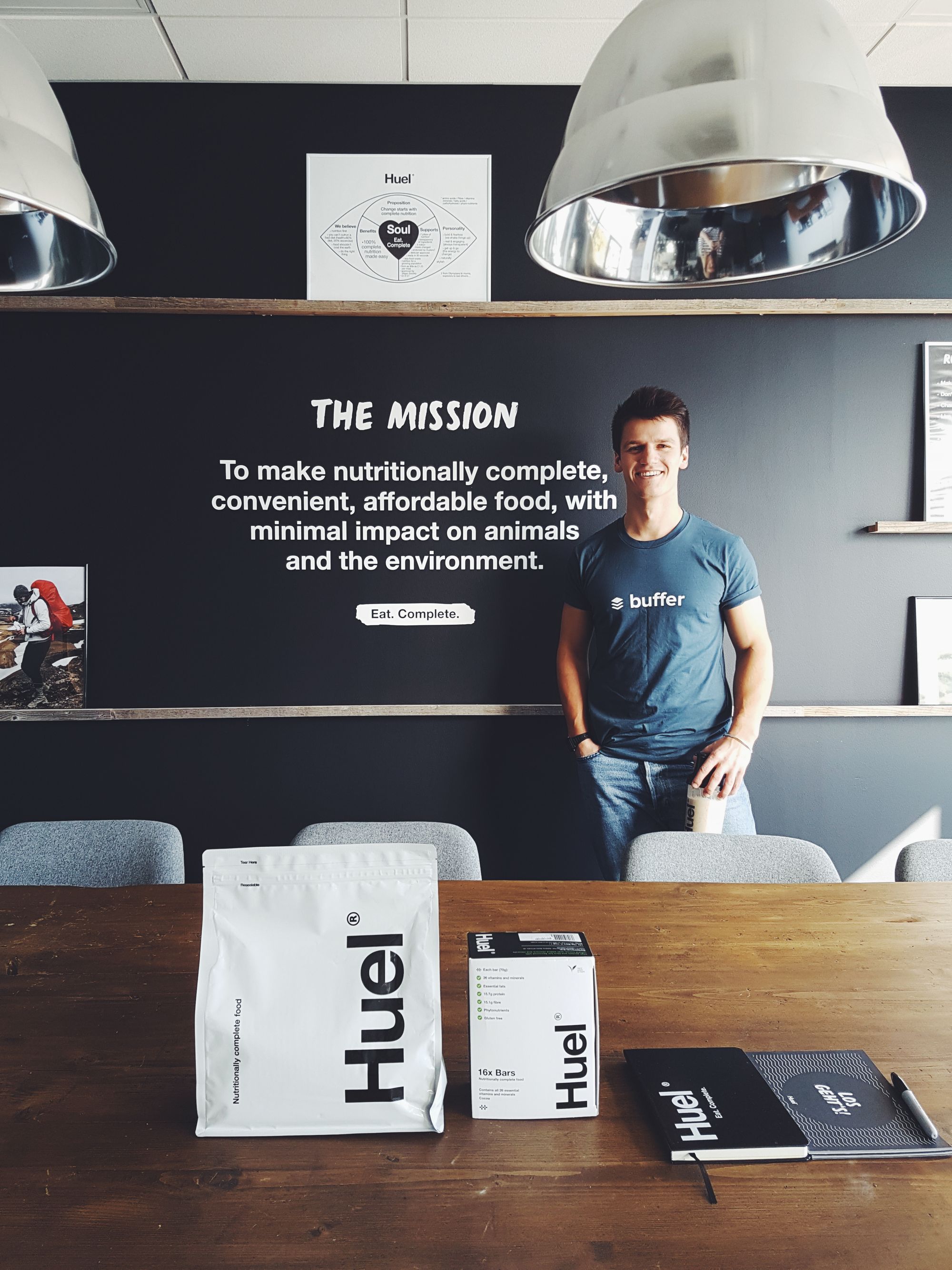 But working with Buffer has enabled Huel to connect with its audience — and grow its presence — across platforms. "I've used Buffer since I started at Huel in 2016," Urch explained, and Buffer has helped Huel to navigate the waves of organic reach and maximize every opportunity to reach its most passionate advocates in their social feeds.
"Because the reach of organic content on social media is limited, getting those messages in front of as many people as you can is essential," according to Urch. To achieve this he uses a multi-platform approach. This ensures Huel is connecting with and building lasting relationships with its key target customer groups where they naturally choose to engage with content.
Huel uses Buffer to manage its global social media presence made up of 10 profiles across Facebook, Instagram, Twitter, and LinkedIn.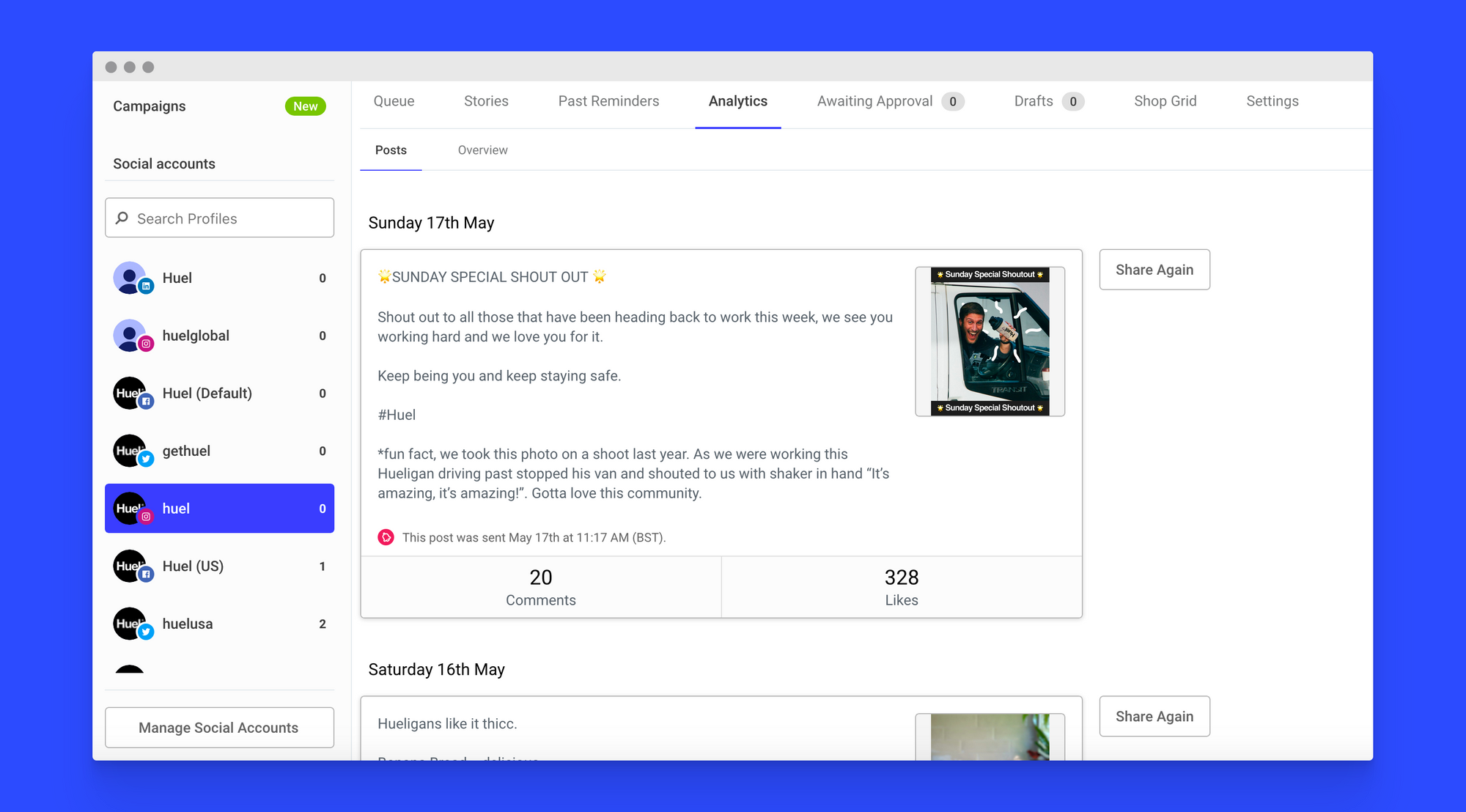 "It's great for managing our social publishing schedule. We can easily tailor our messages to each social platform and review everything in one place," says Urch
Keeping feeds filled with valuable content
When it comes to keeping Huel's social media feed filled, Urch focuses on creating content that has a purpose beyond simply generating 'Likes'. "[We] create content that first and foremost is useful or adds value for our audience," he explains.
"Whenever we think about the content we've got to consider how it can be useful to our Hueligans [an affectionate term for Huel customers], why would someone want to subscribe to our content and have it appear in their newsfeed?"
For Huel, that content might be tips for product success, nutrition advice from its world-class nutrition team, business advice from its founder, or simply fun, relatable content which makes the audience feel part of its unique tribe.
But there's a balance that Urch aims for. "As a brand, we also need to talk about our products, a bit," he explains.
Generating original content ideas
Anyone who has worked in social media will understand the challenge of keeping your content calendar brimming with ideas. It's no small task, especially when you're managing multiple profiles across platforms.
But over time, the Huel team has built up strong instincts about what will work on its social channels, and when planning content, Huel aims to challenge the norms.
"A lot of our most successful content has been instinctive, stuff that just came to me or someone in the team," says Urch. "It might feel a bit left of field, a bit wacky, like a meme or a bold statement that might ruffle some feathers."

Huel's take on the #dollypartonchallenge
It takes time to build this type of understanding with your audience where you know something will just click — remember Urch has been with the brand for over four years — and as a brand learns more about its audience, its team can begin to lean on intuition a little more. "Something I've learned is to trust those gut feelings," he says. "Part of Huel's DNA is about thinking a little different."
Content ideas are just one side of the coin for brands. The other is collaboration.
So as a Social Media Manager, Urch believes an important skill is to let go of the reins and utilise the team around you. "We have a team of marketing rock stars," he says. "We brainstorm ideas together all the time, but what about the rest of the business?"
To aid collaboration across the team, Urch recently was set up a Slack channel called #social-hit-squad. In this channel, a group of about 15 teammates from all areas of the business come together to share ideas and inspiration. But Urch also uses it as a testing ground for his own strategies and content. "We share ideas and I temperature check my own ideas with them too. This has meant our content is more reactive, varied and successful."
From 'check out' to checkout
While striking the balance between keeping fans entertained and selling products is a challenge, Huel uses Shop Grid to help their Instagram audience navigate their way from their Instagram page to their online store.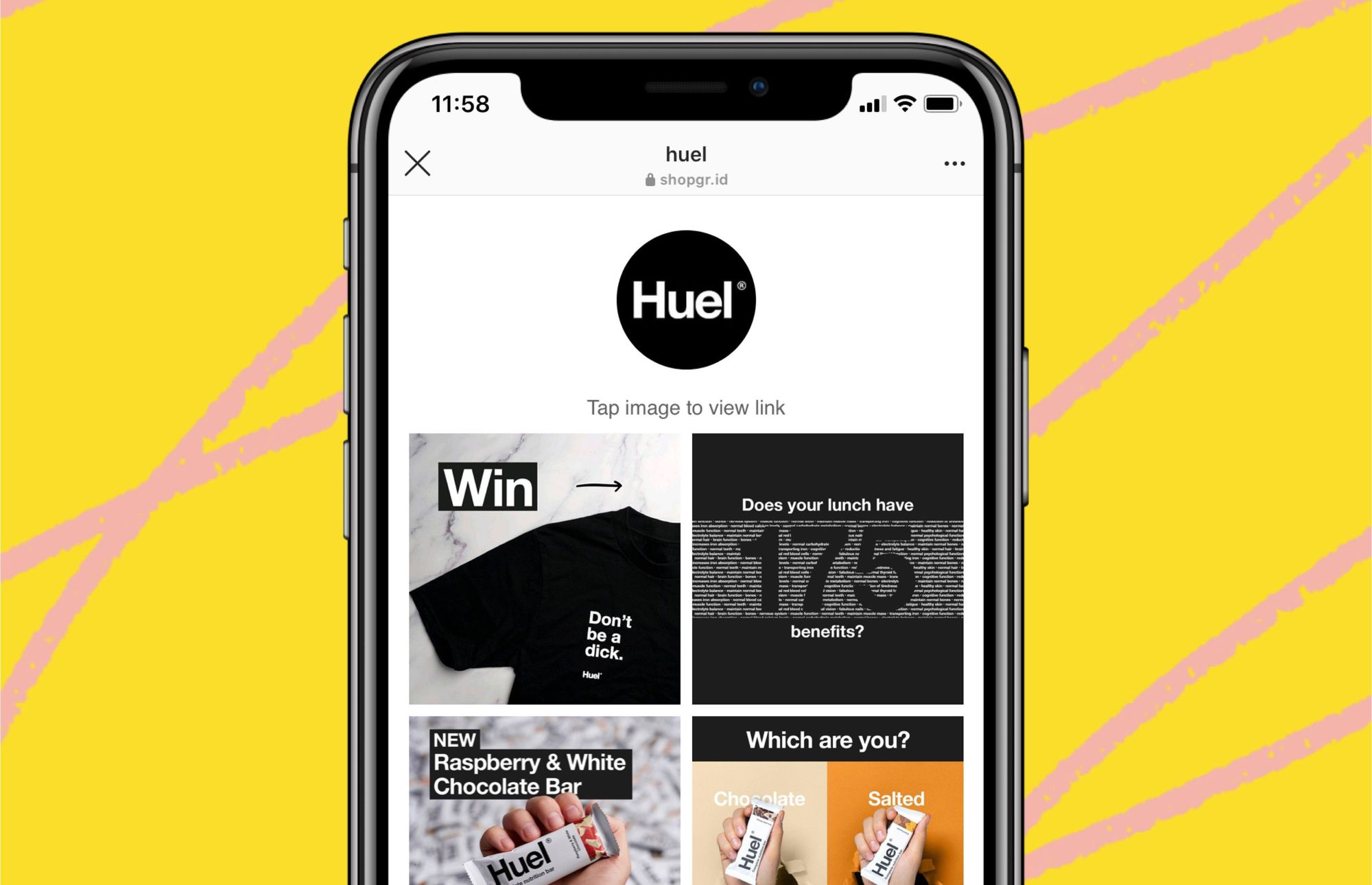 "If our Instagram content triggers something in our audience that makes them want to learn more, or buy one of our products, then we want to help facilitate that. Shop Grid is a really simple way for our customers to tap through from a post to our website. It's qualified traffic with purchase intent," explains Tim.

This blog was originally taken from Buffer, you can find the original post here. Gather Social are proud to be Buffer Partners.